"The Mac Pro Trashcan"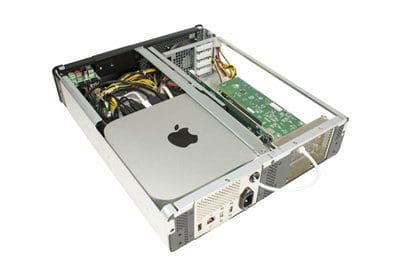 With the 2013 Mac Pro release, Apple has officially killed the "tower" form factor, which largely hadn't changed since the Power PC G5 that came out in 2003. I guess 10 years of functional accessibility and swappable components was long enough for Apple. Gone are the days of optical drives, DVI ports, PCI-e slots, and traditional disk storage. Goodbye to the ability to rack mount (at least currently), replaceable graphics cards, and 16 terabytes of goodness. Welcome to the new Mac Pro "trashcan."
I'll admit that the next generation is a beast! In less than 10 inches of height, Apple managed to cram in an optional 12-core Xeon processor, up to 64GB of DDR3 RAM, up to 1TB of flash storage, and 6 Thunderbolt 2 ports. Yes – 6 – which supports three 4K displays and is capable of 20 Gb/sec throughput. However, what are we supposed to do with all this horsepower? And, the base price for the 6-core version is $4000.00.
As an audio professional, we sadly don't need all this computing power. Many producers and engineers are working off their Macbook Pros and making incredible records in the process. My favorite solution, to the death of the Mac Pro tower, is from Magma in the release of the ROBEN-3TM Desktop. Utilizing the staggering speed of Thunderbolt and the affordability of a loaded Mac Mini, I believe this is a viable option for commercial recording facilities and home studios alike. The most important feature of the ROBEN-3 is the PCIe slots. There are three full-height/full-length slots, which makes interfacing your Avid Pro Tools HDX cards and Mac Mini possible. It provides rack-mount ability, PCIe expansion, integrated cooling, access to peripheral slots, and power management, all within three rack spaces. I'll be trying to get a fully functioning rig together using this chassis in the not too distant future for our rentals department. Early Christmas present?
Check out the promotional pictures from Magma on the new ROBEN-3 chassis above.