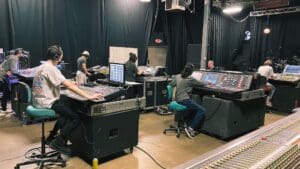 Allen & Heath SQ7's
We recently added two Allen & Heath SQ7 digital consoles with a GX4816 Expander to our arsenal. 
The SQ7's are the flagship console of the SQ series featuring a 96kHz XCVI FPGA engine. They have 32 exceptional mic preamps, plus 8 stereo FX engines with dedicated stereo return channels. Inputs and mixes can be individually assigned to 192 fader strips across 6 layers. These consoles are compatible with Dante through the use of an expansion card so we can tap them into our existing Dante network. They allow us to interface with Pro Tools and other DAW's for multitrack recording. The SQ7's are robust, flexible and intuitive.
The GX4816 Expander unlocks the full capabilities of the SQ7's. With 48 XLR inputs and 16 XLR outputs it allows us to put our consoles anywhere we want and simply connect them with network cable. It features 48 dLive mic preamps, 96kHz operation, 2 DX ports to connect to additional expanders and ME personal mixing systems.
Midas M32

We recently added another Midas M32 console and a DL32 Stagebox to our line up. The M32 is a 32 channel input (40 if you count the aux inputs) 16 channel output console. It features 32 Midas microphone preamplifiers, 25 mix buses and 16 FX engines. We've also added the optional Dante cards for all of our M32's so we can connect them to our existing Dante network The M32 along with its predecessor the X32 are some of the most widely used consoles on the planet. Having them here allows us to train our students on a console that they will most likely see when they leave here.
The DL32 stagebox allows our consoles to share the same inputs when we're not using Dante. It features 32 inputs and 16 outputs, AES50 connectivity and Ultranet for use with personal monitor mixers.
Lake Processors
We recently added two new Lake processors to our collection. One LM26 (2 input / 6 output) processor and one LM44 (4 input / 4 output) processor. Lake is a recognized industry leader in digital audio processing and has been for some time. We will primarily be using these as FOH system processors for our Clair S4's when we're not using the proprietary CTS processors, but they can also be used with the other PA's that we have. This allows us to teach both analog and digital approaches to loudspeaker management using the best tools of the trade.
Wireless Gear
RF (radio frequencies) is one of the most important and challenging things we teach here at The Blackbird Academy. The demand for wireless devices (wireless microphones & IEM's (in ear monitoring)) keeps growing, but the frequencies that we are able to use are diminishing. This is due to those frequencies being sold off to telecommunications companies for cell phones. So the approach to RF has changed over the years and continues to change. So there is a need to understand the differences in analog transmission vs. digital transmission, standard density vs. high density bandwidth and how to coordinate all of that. 
During their time here our students learn not only about the RF environment (VHF vs. UHF) and the changing spectrum, but also about how to network our devices together and coordinate them using software like Shure's Wireless Workbench or Sennheiser's Wireless Spectrum Manager. We discuss wireless antennas (toroidal, helical, log periodic directional antennas (LPDA's) and fractal antennas) and how to deploy them efficiently. We also discuss how to incorporate antenna splitters and combiners to streamline the system. 
Each student will have the opportunity to hook up all of the gear (receivers, transmitters, antennas, splitters, combiners and a network switch), learn how to perform channel scans and group scans, sync microphones, network gear to be controlled remotely and coordinate multiple wireless devices to work together.
To enroll in an upcoming class at The Blackbird Academy, click here to submit an application. 
---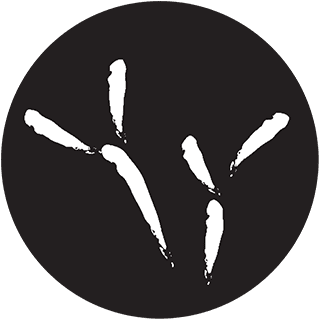 The Blackbird Academy
The Blackbird Academy is a top-tier school for professional audio and has set the industry standard for outstanding graduates. Located in the Berry Hill neighborhood of Nashville, TN, John and Martina McBride founded the academy in 2013 in conjunction with the world-renowned Blackbird Studio, established in 2002.
All author posts