In only its second year of competition, The Blackbird Academy was awarded the top prize at the Nashville Audio Engineering Society (AES) annual "Spring Mixer" held April 23, 2015.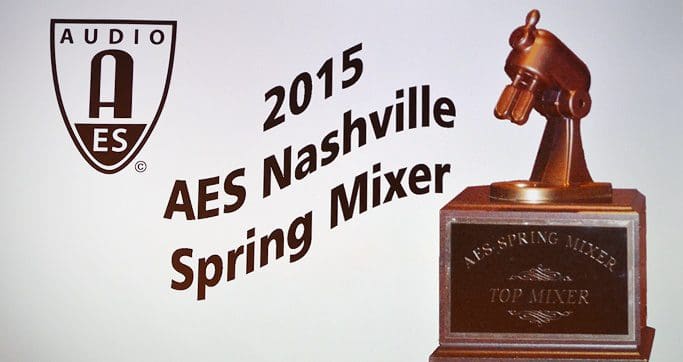 The Blackbird Academy won first place in the Nashville AES mixing competition and the coveted "Top Mixer" trophy by a landslide – placing 19 points ahead of the second-place Belmont University team. TBA's winning team was made up of students Ciel Eckard-Lee, Preston Tate White, and Elijah "Kai" Clutter.
Each year, Nashville-area schools with audio recording programs are invited to participate in the AES mixing competition. Student teams representing the schools are given identical raw original studio tracks and eight hours to work together to create the best mix possible. Then, an all-star panel of producers and recording, mixing, and mastering engineers review, critique, and score each group's mix to decide a winner. Judging is based on elements including the fidelity, imaging, width/depth, dynamic range, mix balance, preparation for mastering, etc. The team with the highest score is the recipient of the coveted "Top Mixer" trophy.
Besides the honor of keeping "Top Mixer" perpetual trophy for the year, The Blackbird Academy team won a host of other prizes, including a Miktek C1 microphone, Auralex MoPads, plugins from FabFilter and IK Multimedia, AES t-shirts, and more.
"We all three had such a great time working together [at the competition]. When we left, we said we didn't care if we win or lose because we had such a good time," said TBA mixing team member Preston White.
This year's event was held at the West End United Methodist Church and was moderated by AES Nashville Committee Member/Recording Engineer Jill Courtney.
Participating teams were from The Art Institute of Tennessee-Nashville, Belmont University, Middle Tennessee State University, Nashville State Technical Community College, and the SAE Institute-Nashville.
Final scores:
The Blackbird Academy: 201
Belmont University: 182
The Art Institute of Tennessee-Nashville: 173
MTSU + Nashville State Technical Community College (tie): 168
SAE Institute-Nashville: 167