TBA recently got the chance to sit down with one of our grads, Rachel Rozzi, and talk to her about her time touring with the Rolling Stones and their historic show in Cuba. She told us about her experiences in Cuba as well as how TBA helped her throughout her journey.
What are your favorite memories from your time in Cuba?
President Obama was there at the same time we were, so we got a few days off. On the day of his motorcade and address, we all woke up late, and one of our lighting guys decided we should go to the beach. That same afternoon, the baseball team was playing the Tampa Rays, and Obama would be attending. It was one of the most anticipated events of his visit. We took an old car and went to an old beach. While we were hanging out on the beach, a local came over and told us that we could watch the game in a restaurant nearby. I remember the service kept going in and out on the TV, and there were a ton of Cuban people in the restaurant, mesmerized by this game. It was awesome experiencing history in real-time. Then we played pool on a beautiful outside balcony and had a couple of beers on the beach. We ended up taking an old cab back into Old Havana. It was an amazing day. Also, the night of the concert was pretty breathtaking. To be in such a beautiful country, with around 1.5 million people in attendance, watching one of the biggest rock and roll bands in the world perform was an experience I will never forget.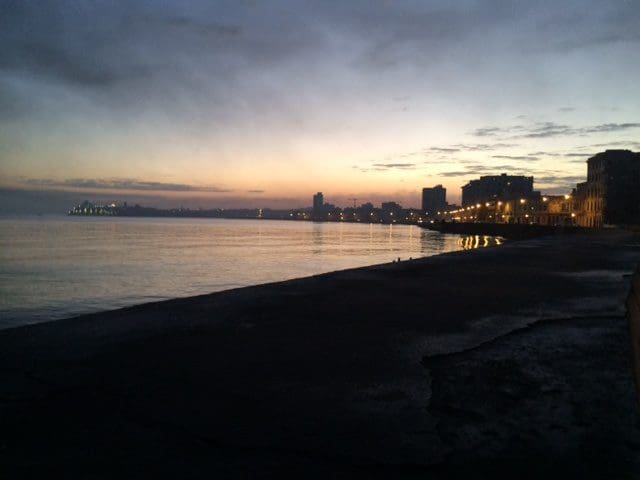 The Cuban beach at sunset.
Can you give us an little overview of your trip? What was your position, your agenda, etc.?
I had been working for Clair Global for five months at that point. I graduated from TBA on a Friday and was hired on the spot just three days later. We were in Road Staff training for six months, and before we were finished, they had booked me on the Cuba gig with the Stones and a Florida Georgia Line tour that would follow shortly after. There were sixteen of us on the advance audio crew who flew ahead to prep the show.
Regarding our agenda, we started with flying out the PA for the delay towers and the main hangs and side hangs for the main stage, which was a feat within itself. We then checked the entire system to make sure everything was working properly. We had to make sure that the whole system was good to go so that when the universal crew got there, all they had to do was the monitor set up and stage patch, along with a few other things. We were to be present and on the radio every day, just in case something were to happen. I was mostly working in the stage left amp world, but I basically just helped wherever help was needed.
"THINGS WILL HAPPEN, SO DON'T THINK IT'S JUST A DREAM. THIS IS AN INDUSTRY. PEOPLE WORK HERE. IT'S REAL. GO FIND IT."
It's a lot of organizing and making sure it's easy to get in and out of the venue. When you're loading in, your main focus should be on loading out, and how fast and efficient it's going to be. Loadout shouldn't take more than a couple of hours, for the most part. Weatherproofing is also a big deal — we always made sure we had tarps and Visqueen so that nothing would be damaged or destroyed in bad weather. We also had to make sure that everything that was going across the stage was connected correctly. There was a lot of cabling involved in this show and plenty of chances for a mistake to happen, but we were diligent and made sure everything was done correctly.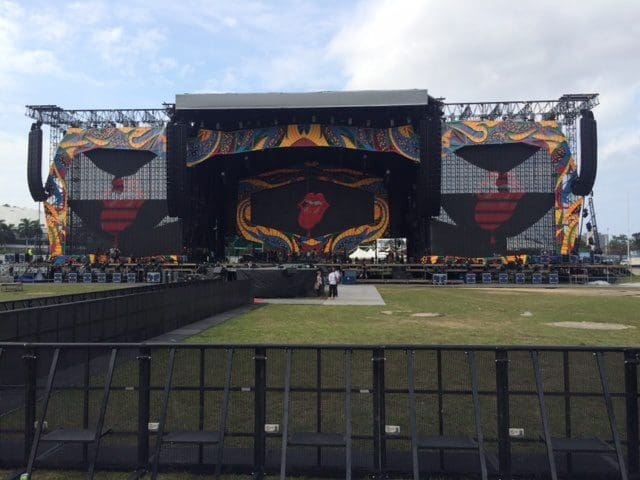 The stage set up for the Rolling Stones show in Cuba
How did TBA help you while you were in Cuba? 
The Live program is very hands-on and is mostly based on practical experience. There were also days all about theory because knowing and understanding signal flow is very important, but the knowledge really sinks in when you physically do it yourself. It gets ingrained in your brain, so you know what's going on.
"WHEN YOU'RE LOADING IN, YOUR MAIN FOCUS SHOULD BE ON LOADING OUT AND HOW FAST AND EFFICIENT IT'S GOING TO BE."
When I had rehearsals at TBA, I was mixing front of house and monitors, so I got the experience of both. There were also shop days at Clair where I was able to work in different departments and see what all those people did as well. We regularly hosted small gigs and rehearsals at TBA that I could be a part of. One of our instructors at TBA mixed for Exile, so I would ride on the bus and be one of their stage techs for some of their shows and sell merch for them from time to time.
I was doing some paying gigs while I attended TBA, thanks to the relationship with Clair Global and various small audio companies and people around Nashville. It really is Music City. Regardless of your career, your work ethic, passion, persistence, and attention to detail speak volumes for who you are as a person and what you are capable of in the future.
What was your coolest experience in Cuba?
We actually got to watch most of the show. At the beginning of the encore, my friend and I climbed up on top of one of the sea containers to see how far back the wave of people actually went. Just witnessing the massive audience full of excitement and energy was absolutely unbelievable. Around 1.5 million people attended the show that night. It was a huge moment in history for the music industry, and I was incredibly blessed to be a part of it.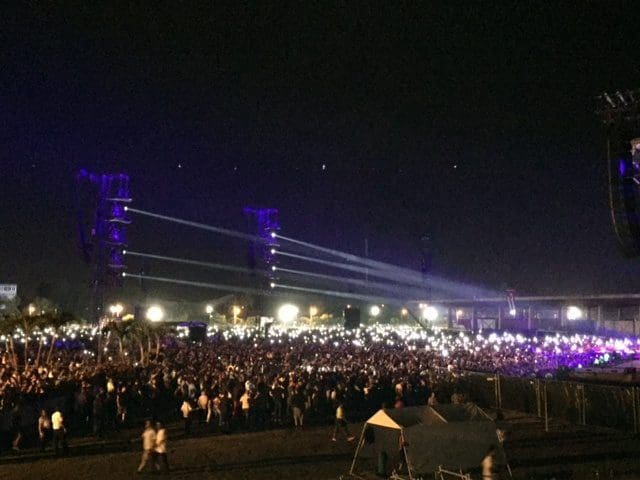 A look at the crowd at the show
On our days off, we would go around town and just talk to people. They were all so friendly. Cuba was like being in a time warp; it felt like a Latin-infused 1950s. Everyone was so sweet and kind and not all that upset that Americans were there, or so it seemed. Just exploring old Havana with crew members and locals and experiencing the culture in so many different ways was very cool.
What would you say to females thinking about working in live sound?
There's really no difference between being a female or a male in this industry, from my experience. People shouldn't really treat you any different as a female, so I don't even really think about it. It's more about what I mentioned earlier regarding your work ethic, passion, etc. You're not bound by gender. So that being said, just go for it. Know yourself and your goals because if you want something bad enough, you can make it happen. There is no dream too big or goal too high to accomplish. Anything is possible, as long as you are willing to work for it.
"If it's what you really want, start studying now. Start figuring things out."
What are the differences between studio and live culture?
The studio, for me, could become sterile sometimes. Not stagnant per se, but you're in the same building, in the same rooms, day after day. It starts to feel very familiar and very comfortable, but may also not cause you to get out of your comfort zone and try new techniques. It can become easier to get locked into a certain mode of mixing and a particular sound where you are not forced, by your environment, to adjust and adapt on a daily basis. With live music, everything differs from day to day: different buildings, different weather conditions, different acoustic environments. It's always changing and always keeping you on your toes.
How do you approach live sound professionalism?
You have to be as prepared as possible. I make sure to know my gear and that I have spares of everything just in case something is broken or gets damaged. I also have to be able to compose myself and be calm, no matter how I might be feeling, which can be a challenge. I always look ahead and know the weather conditions so that I can pack accordingly. I think through all of the possibilities so that I'm incredibly prepared. You should always be ready with water, safety gear, tools, multi-tools, E-tape, flashlights, hard hat (for loading in and out), good socks, steel-toed shoes, a knife, etc.
Do you have any advice for people wanting to get into the industry?
If it's what you really want, start studying now. Start figuring things out for yourself. Read as much as you can and listen to interviews from people that are well versed in the particular area you want you to pursue. You should always pay attention to detail, whether through gigging, doing workshops, or just speaking with people in the industry. Ask as many questions as you can to as many people as possible. People want to help you out, so be proactive! The more you understand, the better off you'll be.
Do you have any tips for current or future TBA students?
You get out what you put into it. You can't just slide by and assume you'll be successful — you have to study outside of classes and promote yourself outside of the program. You have to be determined and focused. Definitely make sure that you're present and early for everything. Being late is absolutely unacceptable as a professional in any industry. Try your best not to let it happen.
And it's important to get a feel for the lay of the land and then put yourself out there, even if it's challenging. Jump on any opportunities you're offered and take those chances because it's better to mess up than not try at all. It's better to sprint through the open doors when they present themselves, regardless if you're going to fall. Otherwise, someone else is going to take the chance that you could have had. Good people will help you if you make a mistake because they'll respect the effort, as well as the drive. Don't ever say no, until you're too busy to say yes.
What were the specifics of being part of the advance crew?
We had a few system techs, PA techs, monitor techs, production team, crew chief, etc. It wasn't like a normal tour where you just have a small set-up crew. We had a massive crew, and everyone was doing everything together. Most of our team was very experienced and had worked with each other before, so it was great to learn from all these different individuals with so much knowledge and talent.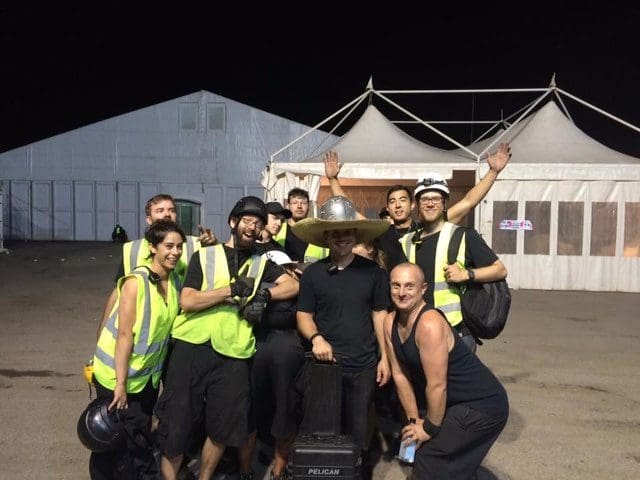 Rachel Rozzi, far left, with some of the advance crew.
What qualities do great engineers posses?
One of my early mentors once told me that being a great engineer has nothing to do with the music itself, per se. Being a great engineer means possessing certain human qualities that include patience, flexibility, and warmth. This is very important because you have to remember you're working with people, and your job as an engineer is to develop a relationship with your artists where they can fully trust you. When you get to that level of trust, that's when the magic happens. You will get the best results sonically because you hear the artist at their most vulnerable. Sometimes that can require a lot of said patience. You have to be flexible because things can change at the drop of a hat, and you have to keep rolling. And lastly, you have to be warm. You should make your clients feel like they are at home, in their mama's house, and like you're their biggest fan. On top of these three qualities, great engineers will NEVER be okay with good. As I have learned from John McBride himself, good is the enemy of great. And you will never be great if you settle for good.
What are some tips you have for engineers?
Make sure you know what you're responsible for, especially your gear. Being prepared before you even start is huge. We had caddies pulled for us for the FGL tour that had all of our rigging and cabling in them. I had a PA diagram that told me everything that was supposed to be in there, so I'd take that sheets and make sure everything was there. I'll start putting things together before I even get to where the show is. It just makes your life that much easier, saying, "I'm not going to need this" or "This can stay." Organize everything to the best of your ability. Know your gear, listen to your crew and clients, and try your best to keep a smile on your face no matter the situation.
"Good is the enemy of great. You will never be great if you settle for good."
What's your normal schedule like?
It's hard to say because nothing is ever the same. Some tours go on for months, and others are weekend warrior style. Sometimes you get a few months off, and then it's back out on the road again. That being said, plans are always changing. Even in between tours, things are going on. There is always music happening everywhere around Nashville. There are rehearsals here and shows there. On your time off, you could still be working. Even if they aren't huge gigs, people respect and remember that devotion if you come in on your days off.
Any final thoughts?
Some kids are shy about going to school, so I think that it's good for them to know that you really don't need to have prior experience. If you're passionate about it, don't be afraid to just go for it. Don't be timid. Just jump in and start doing it. People will help you out, but the most important (and usually the hardest) step is just taking that first one. It's natural to be nervous trying something for the first time, but you can't compare yourself to people who have been around a little bit longer. The greats got to where they are now because they worked hard for it. Things will happen, don't think it's just a dream. This is an incredible industry of hard-working people, so get out there and find it!